Main Menu
Many options for businesses
Please use support@pfh.net to send us a payment with PayPal.


All business listings may use our logo in their own print ads and may use words such as "Proud Sponsor of Smoke-Free Businesses.com" etc.
Opportunities available nationwide in most cities/states
We're currently looking for marketing reps in most all states and cities. We also need computer help with data input, web design, graphic arts, and video production work. Contact us by emailing office@smokefreebusinesses.com.
Contact Us
Smoke-Free Businesses.com


We're encouraging all smoke-free Nevada businesses to place a decal on their business storefront as we launch this site here in Nevada. We'll even come and put it on your door or window for you with a minimum of 4 businesses in the immediate area. Just a reminder to those who apply the decal themselves, a credit card works great for eliminating any air bubbles. Feel free to write, call, or email anytime. To order, send a check or cash to:

Smoke Free Businesses
PO Box 92798
Henderson, NV 89009

Checks should be made out to Putters From Heaven (PFH)
For those who wish to use Paypal, our email address is office@smokefreebusinesses.com or support@pfh.net.
(702) 568.9333
fax (702) 568.9334
As seen on TV
We're working hard and accepting business listings now in Nevada.

Smoke Free Businesses.com is based in Henderson, NV (of course). We hope all smoke-free Henderson businesses will place a SFB decal on their store window to show support. Other long-time Henderson residents know the significance of the "of course". It's perfect to describe the concept of being smoke-free in a public place. No Smoking of Course & Smoke Free of Course stickers, for personal and indoor use are also available.
Call us today at 702.568.9333

---

Look for businesses with our logo sticker on the door or window today!

News & Updates

Feb - 2007 - Thanks for the thank-yous.

Jan 2007 - Business owners or employees can earn a free listings for their business by stopping smoking using the ideas and methods at Beat Nicotine.com.

Logo decals with a message speak loud and clear
Place a SFB sticker on your business storefront or vehicle. Call us at 702.568.9333 or e-mail here.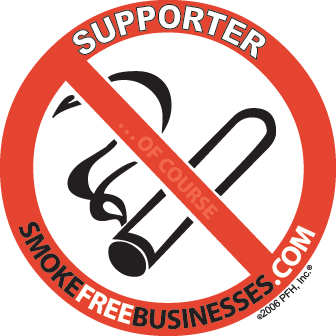 Listing your business helps us to support our programs that help smokers and many others. Other sites of ours include BeatNicotine.com, BeAnOrganDonor.org, ClickaPrayer.com, and more. Some of our future sites include BeatCancers.com, BeatAbuse.com, BeatHunger.org.