Main Menu
Many options for businesses
Everything from a simple sticker on a storefront, to a listing on the site, a featured business, a customized web page, to several levels of major sponsorship that will get your business listed on the front side of our brochure that will be distributed nationwide.

All business listings may use our logo in their own print ads and may use words such as "Proud Sponsor of Smoke-Free Businesses.com" etc.
Opportunities available nationwide in most cities/states
We're currently looking for marketing reps in most all states and cities. We also need computer help with data input, web design, graphic arts, and video production work. Contact us by emailing office@smokefreebusinesses.com.
About Us
Smoke-Free Businesses.com

We're helping to make the world a better place.....for us all.

Our parent organization is called Putters From Heaven®. An organization founded by golfers on Sept. 10, 2001.

Our goal is to make the world a better place for us all by helping the people in it, to be healthier, happier, and friendlier....to themselves, and others.

We know why many smokers who want to stop smoking, are not successful. We are educating and showing smokers how they have been brainwashed and how beating a nicotine addiction is a wonderful experience for those who choose to do it successfully.

Listings on the Smoke Free Businesses.com web site help to fund our programs. Smokers and non-smokers alike can be proud to support businesses listed here.

Other objectives and goals include protecting the Constitutional Rights of everyone, helping victims of disease, and encouraging everyone to be an organ donor.
(702) 568.9333
fax (702) 568.9334
As seen on TV
We're working hard and accepting business listings now in Nevada.

Smoke Free Businesses.com is based in Henderson, NV (of course). We hope all smoke-free Henderson businesses will place a SFB decal on their store window to show support. Other long-time Henderson residents know the significance of the "of course". It's perfect to describe the concept of being smoke-free in a public place. No Smoking of Course & Smoke Free of Course stickers, for personal and indoor use are also available.
Call us today at 702.568.9333

---
Look for businesses with our logo sticker on the door or window today!

News & Updates

2007 - We have reps in several markets out in the field taking pix and helping businesses get listed. Terms of listings won't start until later in the year. We will be very generous with early listings as we build the site.

2007 - Business owners are telling us our stickers get attention and the feedback is overwhelmingly positive.

Just in - A new batch of our 4.5" stickers for businesses and 2.5" stickers for consumers. Great for car windows and preventing anyone from smoking in or around your car. They're great for pets too. FYI: 1000's of family pets are killed each year from secondhand smoke. Especially dangerous for dogs with longer snouts and cats who regularly clean themselves and ingest the residue which contains many carcinogens.

Logo decals with a message speak loud and clear
Place a SFB sticker on your business storefront or vehicle. Call us at 702.568.9333 or e-mail here.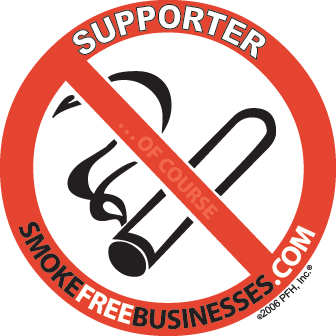 Listing your business helps us to support our programs that help smokers and many others. Other sites of ours include BeatNicotine.com, BeAnOrganDonor.org, ClickaPrayer.com, and more. Some of our future sites include BeatCancers.com, BeatAbuse.com, BeatHunger.org.